I've not been keeping up with my book summaries on this blog, so I have some catching up to do! And it's almost the end of April! Click the title to read my full reviews at
Marie's Book Garden
.
Fiction
Golden Boy, by Abigail Tarttelin
I loved this book about an intersex English teenager. Max Walker is his family's golden boy, but he and his family are harboring a secret. But when Max has a horrific encounter with a boy from his childhood, everything shifts and the secrets begin to leak out. This book is painful, poignant, and beautiful, and is an artful and sensitive depiction of sexual orientation and intersex issues. Abigail Tarttelin is a young actor and novelist, and she is an author to follow!
Keeping the House, by Ellen Baker
Each chapter in Ellen Baker's novel begins with an excerpt from a 1950s homemaking guide...about how women can keep their husbands happy. Told through the lens of Dolly Magnuson, a homemaker who moves to a small Wisconsin town in 1950, the book goes back to the late 1800s when Dolly begins visiting an abandoned mansion and uncovers the secrets of the family who inhabited it. Dolly's unhappy in her marriage, just as Wilma Mickelson, the matriarch of the great house, was unhappy in hers. This novel illustrates the pressures women faced, trying to create a perfect house while sacrificing their own needs. It's homemaking before feminism.
Never Let Me Go by Kazuo Ishiguro
The protagonist of
Never Let Me Go
, Kathy, tells the story in first person, about her childhood years at Hailsham, a private school in England. The narrative style was dry and distant, typical of Ishiguro. I was expecting more out of this book...I didn't feel it was very compelling. I wonder what Kazuo Ishiguro is like as a person, as the characters in his novel seem to live their lives as unfulfilled, unhappy people...it's almost as if he doesn't want his characters to be happy and he has a cynical, depressing view of life.
The Kizuna Coast, by Sujata Massey
I've been reading Sujata Massey's Rei Shimura detective series since the late 1990s, captivated by these books because the main protagonist is a Japanese-American antiques dealer turned detective, living and working in Japan. A fascinating character who I've always felt I could relate to more than most detectives, Rei has led me through ten adventures. Soon after the tsunami hit, Rei's mentor Mr. Ishida calls her, asking for help. She gets to Japan as soon as she can and gets embroiled in a mystery...to find out what happened to Mr. Ishida's young apprentice, Mayumi, who has disappeared. She goes to Tohoku as part of a relief effort and is touched by people who have lost their loved ones and livelihoods. I thought this book lent a fascinating glimpse into the earthquake aftermath and relief efforts, a tale told by someone else who loves Japan.
Animal Dreams, by Barbara Kingsolver
I read
Animal Dreams
soon after it was published in the early 1990s, but I reread it in February for my book group. Kingsolver masterfully writes colorful characters; the plot in is secondary to characters and setting. It's a story packed with community, redemption, ecological justice, family, and sisterhood...strong women and deep female relationships. It takes a little while to get drawn in, but it's a beautiful novel, well worth the effort!
Evil at Heart (Gretchen Lowell series), by Chelsea Cain
I read these books because they're set in Portland and I got the privilege of hearing Chelsea Cain speak in 2010. Gretchen Lowell is an evil serial killer on the loose, and Oregonians are apparently obsessed with her. If you can suspend reality, it's a thrilling read. I will wait a few years before reading the next one though...it's a bit too light--and violent--for my regular tastes!
Nonfiction
Prime Time, by Jane Fonda
The ageless Jane Fonda breaks our lives into three acts, and she focuses most of this book on Act III. Weaving her personal life stories with strong research and tips on aging, food, fitness, friendship, love, and sex, Fonda recommends that we each perform a life review--especially while our elders are still alive so we can interview them--to better understand where we've come from and where we're going. In the end, a well-worth-it read on aging for women!
Half Broke Horses, by Jeannette Walls
I loved this true-life novel/biography of Walls' spitfire grandmother, Lily Casey Smith, born in 1903, who was a "mustang-breaking, poker-playing, horse-race-winning schoolmarm." Lily worked side by side with her ranch-running dad, breaking and training the horses. When she was 15, she took off on her horse, solo, for a 30-day journey to Arizona, where she'd landed a job as a teacher in a one-room schoolhouse, even though she'd hardly had any formal schooling herself. She drove cars and flew planes and worked her fingers to the bone, carrying two jobs when she needed to, running a ranch and teaching in her spare time. During the depression she sold moonshine out their back door (keeping it hidden under the baby's crib) to save their ranch. I loved this book and I would have loved to meet Lily Casey Smith. What a great American hero.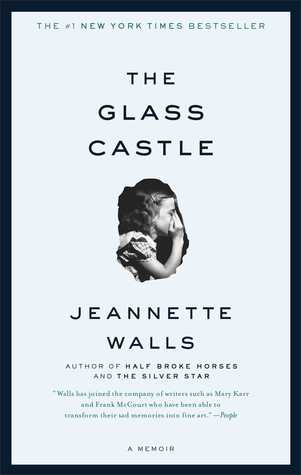 The Glass Castle, by Jeannette Walls
Rose Mary Walls (Jeannette's mother) had been raised to be independent, but she took that to an entirely different level. Probably bipolar, Rose Mary wanted to spend all her time making art, not raising children. So the children had to raise themselves. They didn't get groceries for weeks at a time...because Jeannette's dad Rex drank away any money they had, and Rose Mary couldn't be bothered to find a way to feed the kids. Nomads and rebels, Jeannette's parents took their kids all around the country, and they would flee towns in the middle of the night when her parents were unable to pay their debts. They slept in cardboard boxes and peed and pooped in a hole in the ground until it overflowed. This book has so many shocking stories...it's unfathomable that her parents would think how they raised their children was okay...but alcoholism and mental illness will do that.
Believing Cassandra: An Optimist Looks at a Pessimist's World, by Alan AtKisson
Alan AtKisson is a true optimist at heart. He reminds us about the Greek myth about Cassandra, who was blessed with the gift of prophecy but cursed because no one would believe the truth she had to share. And that is the essence of how we need to communicate about the perils facing our planet. When we preach doom and gloom, it's easy for people to turn us off and believe that nothing they can do can possibly help (I often find myself feeling the same way!). His aim is to give hope, and for all of us to find a way to be optimistic about the challenges facing our world. He urges us to break Cassandra's curse by giving people a reason to hope instead of letting the doomsayers take over the messaging. Because if that happens, no one will listen. This book has already helped me transform my thinking about how to communicate about sustainability, especially to those people who are unconvinced of the need to turn the tide.