I took a break from Monday Listicles last week
to celebrate my birthday
, but I'm back with this week's theme, "10 foods that make me think of..." Since I met some former coworkers on Saturday for Japanese curry, I've been feeling nostalgic about Japanese food.
I went to Japan in 1986
and stayed there until 1989 after I met my husband there.
Eating Japanese-style curry with Lisa and Janis
Here are the ten foods that make me think of (and miss) Japan:
Known to most Americans as "dumplings" or "potstickers," the Japanese word for these is gyoza. I ate a lot of gyoza in Japan and my youngest son, Nicholas, loves them now. I learned how to make them, too, in an old Japanese farm house on the western coast of Honshu.
Although my first exposure to sushi was kaiten-zushi (sushi at a rotating sushi bar, which is not the highest quality), I came to appreciate really high-quality sushi and sashimi, which I was more likely to eat when it was purchased or prepared for me than when I bought it myself (being a relatively poor teacher).
3. Delicious white rice
When I was a child I disliked rice. But when I headed for Japan at the age of 21, I determined that I would eat adventurously, rice included. Japan is a wonderful place to become a rice convert, as Japanese rice is incredibly delicious! Now I eat rice several times a week--I love it. I usually try to eat brown rice nowadays though, because it's more healthy.
I also LOVE rice balls, especially the kind with the salted plum (shown in the middle of the photo).
4. Okonomiyaki
Okonomiyaki is a sort of Japanese savory pancake. The most fun thing about okonomiyaki is making it on your own at an okonomiyaki restaurant with a tabletop griddle:
Each time I visited Nara
, I would stop in at the restaurant near the station to have okonomiyaki. We have recreated okonomiyaki here in the U.S., but it's never quite as good as it was in Japan!
5. Yaki soba
Most Americans know what yaki soba is now, but when we first returned from Japan in 1989, it was not so well known. And the yaki soba you get here in the U.S. is not nearly as good as real authentic Japanese yaki soba. We used to make it at home a lot (you can buy yaki soba sauce and noodles in Japanese stores), but that was before my husband went gluten free. Yaki soba is a very popular festival food in Japan.
6. Mochi with red bean paste
When I first arrived in Japan, I didn't like red bean paste at all...but it grew on me and now it's one of my favorite food memories. When I used to go to Honolulu for work, I'd go to the Japanese department store and buy fresh mochi (rice cake) with red bean paste. The fresher, the better! I think it's time to hit the Japanese store in Portland again so I can buy some mochi.
7. Yaki tori
Yaki tori is skewered chicken with teriyaki sauce, and it is so tasty! It's also a typical festival/street food.
8. Fugu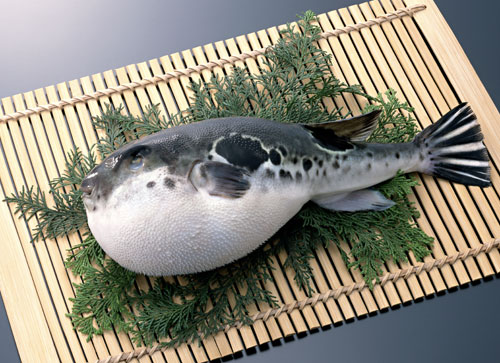 One time I went to a fugu restaurant with my husband (one of his rich acquaintances took us there), and it was one of the most delicious, delectable things I ever ate in Japan!
9. Ramen
Each week when I went to my Japanese teacher's house, I had a tradition of stopping for a bowl of ramen before I went to work on the train. It was my Japanese comfort food!
10. Takoyaki
Octopus balls. No, really. Balls made of batter and octopus...they are another festival food, and they were the best way to eat octopus. Octopus sashimi is really tough, but the takoyaki were much easier to eat and tastier too.
The two other foods that come to mind are Kentucky Fried Chicken (Mike and I used to eat a lot of that late at night after our classes--that and the alcohol consumption probably contributed to my weight gain in Japan!!) and Indian food. Japan has some amazing Indian restaurants, and that is where I first had Indian food and discovered my love for it.
All this reminiscing about Japanese food makes me long to return to Japan!