This is my contribution to the
A to Z Blogging Challenge
,

i
n which I'm focusing on overseas destinations I've visited.
S is for Shanghai, Seoul, Singapore, Stonor, Stratford-upon-Avon, Stonehenge, Saffron Walden, and Sooke
Shanghai, China (December-January 1986-87)
As I mentioned in my C and K posts, I took a ferry from Kobe to Shanghai to spend Christmas with my sister, who was living in Chengdu. In my first day in China, I witnessed a truck carrying pig carcasses right through town, a father gently guiding his son's penis to pee in a garbage can in the middle of a silk export store, and more people staring at me than ever had in Japan.
First impressions of Shanghai
These are other highlights of my three nights in Shanghai (two nights on the way to Chengdu, and one night en route back to Japan):
Traveling in Asia, sometimes you have to just trust...A Chinese woman named Zhou from Fudan University, sister university of the Chengdu University of Science and Technology (where my sister was studying), met me at the dock and asked for my passport and money. She took me to the university where I would be staying. My room was pricey and had cockroaches, but beyond that it was fine.

China in 1986 was very different than it is now. The first day I ventured

downtown to walk through the city and visit the

Friendship Store, which caters to foreigners, and I ran into several foreigners from the ship. At the time, Chinese were not allowed into the Friendship Stores, which seemed so unfair to me. I found Chinese department stores to be virtually deserted of merchandise, but full of people. I'm sure it's vastly different now!


Crowded Shanghai street
Witness to blatant media brainwashing: The next day I bravely walked onto the main thoroughfare near the university and boarded a bus amidst hordes of openly staring people. I couldn't believe what chaos the buses were, with so many people on the bus that the doors barely shut. I thought the Japanese were pushy, but nothing like the Chinese.

Finally the crowd thinned out a bit and a Chinese guy offered me a seat next to him. A student, he spoke English well. He expressed his opinion that in Japan, women are lower than men, but "in the new China men and women are equal." I felt like I was being fed a political slogan. But then we talked about Japan, China, the U.S., and world peace and friendship. He told me that to get to school from his hometown he had to ride on a train for 10 hours standing up, holding his luggage, and that the train was so crowded he could barely move. When I expressed my surprise, he said "we Chinese have been through many hardships."

We rode, slowly, through HUGE traffic jams in the city. This is what he explained to me about the traffic, according to my journal:

"

There's a huge student demonstration. Apparently the reason is because there was an American dance group here in Shanghai that was performing and asked some of the Chinese in the audience to dance along with them. On the next dance, the Chinese interpreter didn't say anything, so one of the Chinese continued to dance with the group when he wasn't supposed to. Then after the performance was over, the American dancers were angry, so they beat up the Chinese man. No penalty was placed on the dance troupe, so students here are restless and demand retribution. So this is the third day of rallies against the Americans. Now of course I don't know if all this is true."
Well, as we learned not too much later, this was the one of the first student pro-democracy demonstrations that occurred in China...so I was right to be skeptical! This young student had been brainwashed by Chinese media.

He took me all the way to the Friendship Store and then I took a photo of him and his friend. It restored my faith in the Chinese people. He seemed very sorry to see me go!
My student friend (in blue) and his friend, in front of the Friendship Store
A new friendship and a crazy taxi driver: I met a Japanese woman named Hiroko in the JinJiang Hotel cafe and we became instant friends. She was 24 and spoke fair English...enough with my limited Japanese to communicate. No Chinese were admitted to the JinJiang Hotel at that time, which was sad. After some effort, I hailed a taxi to take me back to Fudan University. After saying sayonara to Hiroko, I trusted my life to a maniac driver in a little Honda. He was CRAZY! He didn't speak English except for "Okay? Okay?" He kept swerving, almost hitting people on bikes or walking and saying "Bang! Bang!" Then he said "America!" and started whistling "Yankee Doodle Dandy!"
Me and my Japanese friend, Hiroko
It's not easy to travel in China solo--at least not in 1986: I had missed the boat back to Japan because all the flights from Chengdu had been cancelled, so I had to find a flight home. By January I was ready to leave China--finding it frustrating and expensive to travel there compared to the highly efficient Japan--and spent a final night in Shanghai. Flying in China, at the time at least, was pure chaos. No one remained in their seats when the plane started taxiing, and at the airport it was a madhouse--everyone was shoving and climbing over each other to get to their luggage. Everything seemed chaotic and disorganized, and when I arrived at the airport I found no one waiting for me, although someone from Fudan was supposed to come. So I hopped into a taxi and went to the airline (CAAC), where I was told that a ticket back to Osaka would be way more than I expected. I had to get a cash advance on my Visa card to pay for it. I went to the ship company to inquire about my cancelled boat ticket, and I was told to come back the next day. When I did, they wouldn't refund my boat ticket--they claimed they had never received the request and they knew nothing about it. I was never sure who made the mistake...but I lost $136 and the whole trip cost me one month of pay.

When travel woes get you down, sometimes a splurge is worth it. I decided to splurge and pay an exorbitant fee for a nice(r) hotel, the Shanghai Mansions (which at the time was "nice" for China, but nothing like Japan). My room had a beautiful view of the river and the Bund.
Shanghai Mansions in 1985
Shanghai Mansions in 2013
View from Shanghai Mansions
Another view
Morning on the Bund
Misty morning over Shanghai
That same view now!
My spurned Latin lover: While visiting the Friendship Store, I met a Peruvian sailor, Antonio, who invited me out for a drink. We sat in a bar for 1-1/2 to 2 hours, chatting. He was a merchant marine who was docked in Shanghai for a couple of weeks. It was fun, but he was sexist as Latin men are prone to be. He couldn't believe it when I said I didn't want to marry for 5 to 10 years more. (Actually, it turned out to be 3 years!) He told me he smoked Marlboro because they were "men's cigarettes." He admired my courage for traveling alone in China, and told me I was beautiful (in Spanish and English) many times. He asked for my addresses in Japan and the U.S., and he kept offering me things to drink and eat, which I declined. Antonio tried to call a taxi, to no avail (usual in China), and I had to disengage myself from him because he was acting completely helpless about getting back to his hotel, and I wanted to finish my shopping before I left Shanghai. Finally he gave up after much pleading. He held out his hand, and I shook it, and then he kissed me on the cheek. I'm sure he wanted me to go back to his room with him at the Peace Hotel. He kept saying, "It's early! It's early!" My one opportunity for a Latin lover, I suppose!




When it rains, it pours!: My flight out of China was really late (a five-hour delay), but I met a nice Japanese tour guide in the Shanghai airport, Masa, who was my source of information (everything was in Chinese). Masa wanted to see me and write to me in Japan. He kept saying "I wish I had more time to talk to you." When I told him i wanted to go to Europe, he said, "Come with me as my guest!" Two men flattering me in two days! Unprecedented!
Seoul, Korea (March 1989)
Debbie and I spent one night in Seoul on our way to Thailand. Highlights from our one-night stay:
Met a gorgeous Australian smuggler in the airport. He traveled to Seoul to smuggle in cameras, watches, and walkmans. I was taken with his accent. (Yes, weakness for accents!)

Stayed in the Inn Daewon in a dark, narrow alley. Our room was a closet with little wooden doors and could be padlocked shut. Debbie, at 5'10", had to duck to enter the room. It was maybe seven by nine feet, which two thin quilts on the floor, thin walls with peeling wallpaer, a crooked ceiling, and heated flooring. Creepy! But a very nice manager lived there. The room cost us only $3 a person. (You get what you pay for!)

Wandered around the city and spent 1/2 hour trying to flag down a taxi, before finally grabbing one. Seoul seemed halfway between Japan and China...and like all of Asia, beautiful old pieces of architecture were interspersed with new, tall high-rise buildings.

Went to Itaewon and were blown away. The streets were full of merchants marketing their wares, and shop after shop sold all kinds of bargain merchandise--much of it cheap copies, including pirated cassette and videotapes. It was all new and exciting, and we were amazed by the scene. Salespeople kept hawking at us, trying to get us into their stores (seeing the sucker naive foreigners, I'm sure!). Once we went into a store, they would push things onto us. Then when we would try to bargain, they'd act like we were getting a really good deal if they took it. Itaewon was like nothing we'd ever seen before.
Itaewon, now (I don't seem to have many photos of Seoul)
Went into the King Club, where we asked some guys if there was a cover charge, and they said, "Heck no!" The waitress thought we were all together so she got us a table for five. I sat next to a guy named Bru, short for Brumaker, from Michigan. Debbie and I were the only American civilians in that very crowded bar. I got an education that night. Bru told me that all the Korean women in the bar were hookers. Bru was nice but not my type. He was into fishing and hunting. He'd only been in Korea for four or five days and hated it. They kept buying us beer and wouldn't let us pay or leave. Bru said, "Don't you know it's impolite to leave without finishing your beer?" Yet he kept filling it up so I couldn't finish it.

We danced with the guys a bit--me with the 6'2" Bru to a slow dance--interesting! That evening was a good lesson for me that the military has some nice guys. I couldn't imagine myself in that way of life....it seemed like a real meatmarket in that bar. But Bru, in spite of his shortcomings (being sexist among others) was a gentleman. He didn't try anything at all beyond putting his arm around me. When we finally decided to go back, he walked us out to the taxi (after all the other guys kissed our hands) and told the taxi driver that if he didn't get us to our hotel safely, he'd have to answer to him. What a macho stud. Funny memory!!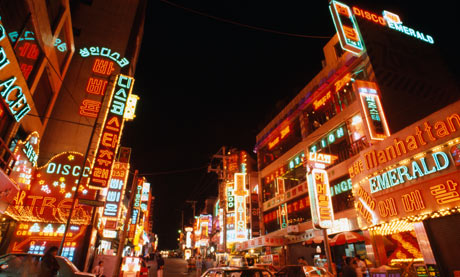 Itaewon nightlife, now
Back in our little inn, we were afraid to go to sleep. We got hot because of the heated floor, and the quilts--the only padding we had--were really thin. The next morning we brushed our teeth with water from a water barrel and spit it down the drain in the cement floor...very primitive. The woman who ran the inn walked us to the airport bus, though; she was very nice. And onto Thailand, which felt like true luxury after our one night in Seoul!
Singapore (December 1988, August 1989)
We visited Singapore twice in the late '80s: once on our Christmas holidays, before going to Malaysia, and second as the third leg on our great Asia adventure. Here are some thoughts about Singapore:
Airports and taxis are incredibly efficient, especially compared to other parts of Asia!

Luxury is in the eye of the beholder.

I will never forget walking into our room at the

Royal Holiday Inn

, which was nicer than I had ever stayed in. I was oohing and aahing, which Mike thought was very amusing. (The hotel is much fancier now than it was back then.) I grew up camping, and he grew up in the diplomatic service...we came from different worlds! The hotel was not that fancy to his eyes, but to me it was a luxury! Mike thought it was hilarious, of course, that I was so excited!

Christmas in Singapore was weird. Orchard Road (Singapore's main shopping and tourist street) was ornately, over-the-top decorated for Christmas. Every hotel had special dinners or dances for Christmas. It took away the quiet peacefulness of Christmas, not to mention the meaning. Christmas is different in Asia than in the west...it's like one big party where you spend lots of money to go out, drink, and eat. We went to Christmas Eve service in the Cathedral of the Good Shepherd...a huge, gold-painted structure that was already packed with people of all nationalities. It was incredibly hot and humid and even though fans were directed at the congregation, there wasn't enough air to keep us cool. The service was conservative, solemn, and staid, and I wrote in my journal about my issues with the Catholic church. It didn't feel much like a Christmas service! No candles, no Christmas story...but the tears did flow during "Silent Night" and "Joy to the World," because I missed my family. I did find the homily, delivered by the Chinese archbishop, to be touching as it talked about the crazy overcommercialization of Christmas. When we arrived back at our hotel at 2:00 a.m., the streets were still full of people!
It's fun to meet up with friends and family in other places. Jean--my PLU friend who moved to Japan my second year there--was also in Singapore, a brief stop before she headed for Bali, and we met her for breakfast on Christmas Eve morning. We met our friends Jo and Yoichi, with their daughter Meg, on the second trip there, and I also met Mike's sister Kath there for the first time--after we'd dated seriously for 2-1/2 years. My first impression was that she was very shy! (Now I know that's not true...but she was a young teen at the time.)
With Kath and her friends in Singapore

In the 1980s, Singapore was a perfect juxtaposition of old and new.

On Christmas day we took a walking tour of Chinatown, where it was extremely quiet. We went to the

Thian Hock Heng temple

and Singapore's oldest Hindu temple (

Sri Mariamman Temple).

We also had Singapore Slings in the garden of the famous colonial

Raffles Hotel

, which was nice but overrated...and full of Australians. By that time I'd been to a number of hotels where Noel Coward had stayed (the Peace Hotel in Shanghai, the Oriental in Bangkok, and now the Raffles). 

Mike writing postcards at the Raffles Hotel



Chinatown
Walking through Singapore's older streets
Beautiful gate of Hindu temple

One of my favorite Singapore photos!
Singaporean food can be amazing--Chinese, Malay, Indonesian, Indian--reflecting the melting pot that is Singapore. But be careful when you order satay. Our trusty Lonely Planet warned us to say how many satay you wanted, but somehow we ended up with 40! We managed to eat them all because they were small, fortunately, with nasi goreng--spicy Indonesian fried rice.
Satay and nasi goreng (with fried egg on top)
Singapore is manufacturing itself. Take for example the Merlion, which is Singapore's "mascot," developed by the tourist board. It's a mythical creature with the head of a lion and a body of a fish. It represents Singapore's origin as a fishing village and Singapore's original name, "lion city." Or the annual National Day celebrations, which are filled with multiple national songs and patriotism. We spent one day in Sentosa, Singapore's latest project at that time. They billed it as a place "to discover a world all your own." It was nice, but a bit too touristy. After watching a show at the Musical Fountains, with the national anthem playing in the background, I wrote "This country is trying so hard to be the perfect country!"

Kath and Mike in front of the Merlion

Crazy laws! Most people have heard of the strange laws in Singapore, such as littering with, selling, or manufacturing gum; running around naked in your own home; failing to flush a public toilet; driving into Malaysia with less than a 3/4-full tank of gas; entering Singapore with cigarettes or smoking in any public place; and peeing in an elevator. These all incur stiff fines. Further, homosexuality is outlawed and oral sex is only allowed if used as a form of foreplay (unless you are married or a lesbian).
At the Chinese temple
Stonor, England (1991)

Stonor
is one of England's oldest manor houses, owned by the same family for 850 years. It is about 4 miles from
Henley
and not too far from
Reading
. It's called Stonor because it was built on the site of a prehistoric stone circle.
We visited Stonor back in 1991, when we were in England for Christmas the year before Mike's dad died. I suspect that one of the reasons his father loved Stonor so much was that it has
a chapel
, which has always been Catholic (
unusual in England
).
One of my favorite photos of Mike's dad, Hugh
Stonehenge, England (1997)
We visited the amazing
Stonehenge
, one of the most famous prehistoric monuments in the world, with our little guy in November 1997. Apparently
Stonehenge is looking for a general manager
to liase with Druids, in case you are seeking employment! It pays well, too--$99K/year!
Stratford-upon-Avon and Stow-on-the-Wold, England (1990s-early 2000s)
Similar to Bs, England has many S cities...for example,
Stow-on-the-Wold
, a village in the Cotswolds. We love to visit Shakespeare's home, Stratford, which is also in the Cotswolds.
First time in Stratford, in the 1990s
We returned in the early 2000s with our budding thespian


(Mike and Chris pretending to be actors in front of the Royal Shakespeare Company)

Me with Chris in the gardens
Mike and Chris in front of Anne Hathaway's cottage
Someday I would love to take a barge trip down the Avon!
Saffron Walden, England (2007)
One of Mike's friends from Oxford, Vicky, settled near Saffron Walden, a village fairly close to Cambridge, in an old farmhouse. We spent a fun evening catching up with them in 2007. Vicky and Nigel have three children: Jacob, Joshua, and Isobel. Jacob loves the United States and was asking all sorts of detailed questions about speed limits on American freeways, etc. He's planning to visit us this summer. Isobel, who has Down's Syndrome, is a sweet soul who loved her toys, books, and dress-up clothes. Chris hit it off with the boys immediately and they all played the X-Box together. It was wonderful to spend time with another warm, relaxed family.
Sooke, British Columbia , Canada (2009)
We spent an amazing week in Sooke, not too far from Victoria, in spring break 2009. My parents joined us and we had a wonderful week staying in the secluded Kingfisher Manor. Highlights included:
On the ferry

Kingfisher Manor deck
Whiffen Spit
Totem pole in the museum

French Beach
Sooke Harbour House
So amazing!

In front of the castle
Tea at Murchie's
In one of our fave book shops, Victoria
On the water, Victoria
Making s'mores on our last night
Enjoying the hot tub
Headed back home on the ferry
Such a fun time on Vancouver Island. I would love to go back!!
Visit here to read my A-R posts
. Tomorrow's back to Japan, England, and Canada.