It's Day 12 of the
A to Z Blogging Challenge
,

i
n which I'm focusing on overseas destinations I've visited. Woo-hoo--I'm halfway through!! This has been a fun journey, reminiscing, but next year I'm trying something simpler.
M is for Miyajima, Matsuyama, Macau, Melaka, Manchester, and Monte Alba

n

Miyajima, Japan (May 1987 and March 1988)
Miyajima
is a town near Hiroshima, located on the island of Itsukushima. This beautiful, serene place has been considered a holy site for hundreds of years. In the past, women were not allowed on the island and older people were sent off the island to die, to maintain the "ritual purity" of the island. Since the monk Kobo Daishi ascended Mt. Misen in 806 AD and established the island as an ascetic site for the Shingon sect of Buddhism, the Buddhist temples and Shinto shrines share the island in peace and friendship. (Japanese religions are compatible--in fact, the
Japanese say you are born as a Buddhist and you die as a Shinto
!)
In front of the famous shrine, 1987
I wasn't crazy about the island's wild monkeys...
Beautiful!
Adorable little girl feeding the tame deer
Visiting Miyajima with Mom and Dad, 1988
This might be Kyoto, not Miyajima--not sure!!
With Mom and Dad in front of the shrine, 1988
My dad was just about to turn 50, the age my husband just turned!
So serene and beautiful!
Matsuyama, Japan (May 1987)
Before my friend Abby and I went to Hiroshima and Miyajima, we went to Shikoku, an island off of Honshu. Matsuyama is known for its hot springs (Dogo Onsen) and its castle, which is perched way up on a mountain (Katsuyama) that overlooks the town. It's one of Japan's most beautiful original castles, constructed between 1602 and 1628.
Matsuyama Castle
At the top of the mountain, Matsuyama
View of the city
After a Japanese bath, with a cup of tea (1987)
Macau (July 1987 and July 1989)
Mike and first went to Macau (a small island nation between Hong Kong and China) with Debbie and her boyfriend Herb in 1987. Macau is a former Portugese colony, and since we visited it, like Hong Kong, has reverted back to China. When we visited the island, it was still administered by Portugal. Tourism and gambling drive the economy, and it has the second-largest life expectancy in the world! We returned to Macau in July 1989, at the beginning of our big trip. You can reach Macau from Hong Kong by boat.
Boat to Macau, 1987
Breakfast on the veranda, 1987
Another moment on the veranda
View from the hotel
Visiting again in 1989, in the beginnings our great adventure
We visited the ruins of St. Paul's Cathedral (one of Macau's most famous spots), which is the ruins of a 16th century complex consisting of a college and cathedral. Built by the Jesuits in the late 1500s, the cathedral was one of the largest Catholic churches in Asia at the time. It was destroyed by fire during a typhoon in 1835.
Visiting St. Paul ruins in 1987 (I used to wear miniskirts in those days!)
Returning again in 1989
We weren't really gamblers, so the closest we got to a casino was ducking our head in. In 1987, the country had only a few casinos. Similar to what I found about Kuala Lumpur from what I see on the Internet, the country has changed completely since the 1980s. It's much more upscale and glitzy now. Back in those days it was a quaint, Chinese-Portugal island.
The other thing I remember is eating amazing Portugese food--specifically great red wine and curried crab. It was to die for!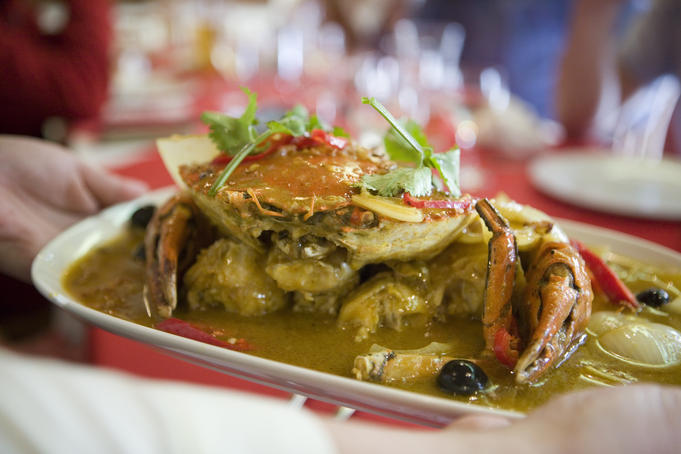 Melaka, Malaysia (December 1988)
Back when we were youngsters, we hardly ever made reservations in advance. The one exception to this rule is when we made reservations for the Lake Palace Hotel in Udaipur, where Mike was planning to propose. But typically we'd arrive in a town and consult our guidebook for a place to stay. That's why our first night in Delhi didn't go so well! After arriving in Melaka (English spelling: Malacca) late at night and struggling to find a place, we should have learned our lesson.
We by bus from Singapore at 8:00 p.m. after a long, tiring journey. Immediately when we disembarked, we were bombarded by touts trying to offer us taxis, places to stay, and who knows what else. There was a particularly persistent little fellow named Cowboy Lim, who desperately wanted us to come to his guesthouse. We tried to call a couple of other places listed in our guidebook, but he showed us photos and recommendations from other travelers, so we finally said yes. He went out excitedly to hail an additional trishaw since he already had an Australian couple in his own trishaw. We had a leisurely ride to the guesthouse, passing many historical sites. Melaka has a rich historical and cultural heritage from previous Portugese, British, and Dutch rule. In 2008, the city was listed as a UNESCO World Heritage Site.

Cowboy Lim and his trishaw
When we arrived at the guesthouse--a true "traveler's" place, he served us all free coffee and delicious banana fritters. The guesthouse seemed clean enough. Our room was part of a larger dormitory room, where there was just one single British guy staying (who had been bicycling around the world since '85). The room was okay; it had a very noisy fan and two hard, rickety twin beds. After having a delicious Malaysian meal in a restaurant (nasi goreng, sweet and sour prawns, and fish), we retired to bed.
By morning, we were more than ready to leave Cowboy Lim's. Mike felt ill and had been bitten alive by ants in the night (or bed bugs?), and neither of us had gotten much sleep. The place had no hot water so we couldn't freshen up...and we didn't have towels either. It wasn't easy convincing Lim that we were not going to stay another night. Were we to stay in Melaka longer, we would have found another place--with no bugs and our own bathroom.
He pleaded and cajoled and finally accepted it, after we'd agreed to go on a trishaw tour with him! It's hard to comprehend how these skinny little trishaw drivers haul heavy foreigners around. The Australian couple, especially, must have been pretty heavy. The drivers don't seem to sweat at all.

A Famosa, Melaka
Lim took us to see all the historic sites, starting with "A Famosa," a Portugese, then Dutch, then English fort. Up on the hill overlooking A Famosa stood St. Paul's Church, a huge ruins that housed several old tombstones engraved in Dutch. Then we went to the cultural museum, which was set in a remake of a Sultan's palace. They had many beautiful costumes and Malay artifacts. Then he went onto Princess Hang Li Po's well, built for the Sultan's daughter. It's said that if you drink the water of the well, you will return to Melaka. We drank some water that had been boiled. Lim demonstrated the surface tension of the water by filling a cup to the brim and then dropping all his coins in the cup. It was amazing--the surface water didn't overflow. The water formed a sort of dome over the cup.
St. Paul's church ruins
After that we went to the town square where there was a monument built for the Queen, and the old
Dutch Stadhuys
and church. Then onto
Chinatown
, where we wandered through antique shops and temples. Lim took us to a shop where they sell paper objects for the dead--TVs, VCRs, cars, large extravagant houses, and paper money, which people set on the graves of their loved ones and burn. Then he took us to the bus station, where we got seats on a bus leaving in 10 minutes--a miracle because the buses were crowded during the holiday season.
I googled Cowboy Lim, and he is still working as a trishaw driver and guesthouse operator, 26 years later! He's also
on Facebook
! He looks quite a bit older, but his trishaw is much fancier--he must be doing well for himself! In fact, it looks like it might be a motorscooter-trishaw now! He had a small daughter when we were there, so I suspect he was younger than his mustache made him look. Maybe he's hired an exterminator, too.
Cowboy Lim now
Manchester, England (1990)
I haven't spent much time in Manchester, but we did visit Mike's sister Kath when she was attending university there. My most vivid memory of our Manchester trip was going out for an Indian meal for Kath's birthday with a huge crowd of her (poor) university friends, and no one else (besides us) left a tip for the server.
Back then, tipping was not as common in the UK...and even when they did tip, it was usually a much lower percentage than here in the United States.
From what little I know of Manchester, it has a very famous football team and a rich history, starting in 79 AD! It grew rapidly during the Industrial Revolution and has a strong working-class history.

The only photo I have of Manchester--college student Kath
Monte Alban, Mexico (February 1996)
Mike and I took a wonderful trip to Oaxaca, Mexico, not too long before I got pregnant with Chris. We took a side trip (by local bus, which was an adventure) up into the mountains to Monte Alban, a large, ancient archeological site. It was beautiful and hot, and you can read about the site in great detail here...too much to explain in a short blog post.
Monte Alban was once the holy city of at least 30,000 Zapotecs. It is Oaxaca's most interesting and extensively excavated ruin, yet they estimate that only 10% of the site has been excavated.
Panorama of Monte Alban
Main plaza

Me in front of one of the wonderful carvings unearthed at Monte Alban
Dancers
Mike exploring the ruins
According to
Sacred Destinations
, "The ball game played on this court had ritual significance, and losers were usually put to death as an offering to the gods. The game wasn't easy, either: players had to manipulate the ball using only hips, shoulders, knees and elbows."

Ball court, where they fought to the death